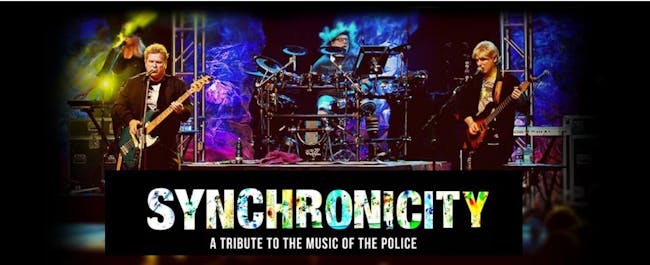 Synchronicity (Tribute to The Police) & Begin the Begin (Tribute to REM)
Synchronicity (Tribute to The Police) & Begin the Begin (Tribute to REM)
"Synchronicity" (A tribute to The Police)
Two of the most influential bands of the 80's (that started in the 70's)
All seasoned musicians from the Kansas City area, forming together to bring you a top notch live rendition of one of their favorites, & one of THE most influential bands in pop history!
Combining rock/reggae/ska/punk/jazz/dance to create one of the 80's-New-Wave era's most important bands,…… The Police!
Enjoy a high energy show featuring so many fun & hugely popular radio & video hits of the 80's with "Synchronicity" KC,….a tribute to The Police
BEGIN THE BEGIN
An early R.E.M. tribute band based in Kansas City. Focusing on covers from Chronic Town, Murmur, Reckoning, Fables, Pageant, Document and others.
We grew up on early R.E.M. songs in high school and college, trading boot leg cassette tape versions of obscure recordings and live shows. We have all been playing in various original and cover bands for decades always making sure several early R.E.M. songs made it into our set lists. When an ad appeared online asking if anyone else was interested in starting an early R.E.M. tribute band focusing exclusively on this genre and R.E.M. era, we were all excited and responded immediately. Begin the Begin began!
We bring raw energy and polished precision to our R.E.M. cover tunes as a true tribute to make our live shows fun, entertaining and nostalgic. Come on aboard, we promise you we won't hurt the horse...there's lots of room for you on the bandwagon..
Synchronicity consists of:
Bruce Haley as "Stung" – Vocals & Bass Guitar
Freddie Francis as "Sandy Hummers" – Guitar & Vocals
Kent Burnham as "Corny Copeland" – Percussion
Jill Francis as "Ms. Gradenko" – Keyboards & Vocals
Venue Information:
Knuckleheads
2715 Rochester Avenue
Kansas City, MO, 64120