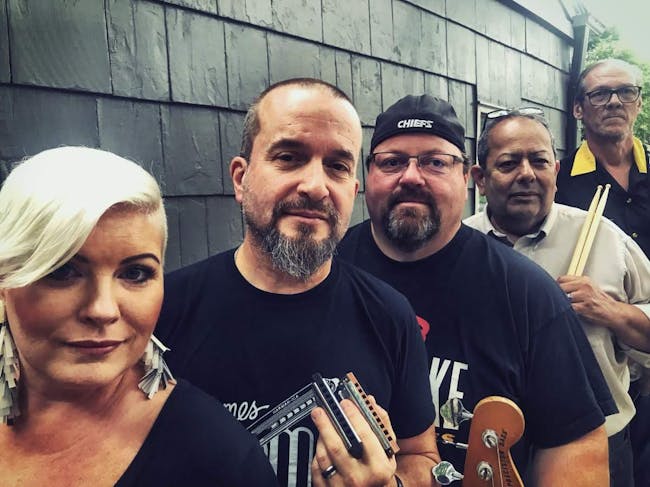 Brigett & Her Bandoliers
Kansas City blues roots band with a nod to the strong, whiskey-drinking women and the smokey, smooth playing men that built the blues
Kansas City blues roots band with a nod to the strong, whiskey-drinking women and the smokey, smooth playing men that built the blues.
From Brigett:
"I told Russ that I wanted us to create a true ensemble group that would borrow from each of our backgrounds, blend styles, and tell powerful stories of love, loss, and living this crazy, unexpected, and ultimately beautiful life. Maybe not exactly those words, but pretty damn close! And I am so thankful for this group and the opportunity to do just that.
Who are the Bandoliers? Actually first, WHAT is a bandolier? (I had to google it!)
A banddolier is a cross body strap that holds ammunition (and coincidentally, harmonicas). I thought it was a good representation of something that holds the ability to either cause disruption and chaos (ammo) or create beauty and harmony (musical instrument). While blues songs can be filled with such misery and heartache, they are also relentlessly hopeful and embrace both chaos and harmony. And that's where the magic lies.
So, we hope you come out to a show, find meaning and joy in what we do, book us for a gig, and share this journey with us."
-Brigett & Her Bandoliers
Brigett Owens - Vocals
"Kidman" Russ Schenke - Harmonica, Vocals
Mickey Munoz - Drums
Roy Cashman - Guitar, Vocals
Joe Fontenot - Bass
https://brigettandherbandoliers.com/home

No Refunds

Venue Information:
Knuckleheads
2715 Rochester Avenue
Kansas City, MO, 64120