Outlaw Jim and the Whiskey Benders - Steak Cookout - Ava Jane Campaign
Steak Cookout for The Ava Jane Campaign with Outlaw Jim and the Whisky Benders!
For more information, please click the link below.
The ticket you are buying ($20) is for the concert. The steak cookout fees are listed below.
Entry Fee:
Steak- #1 $125
Steak- #2 $125
Bacon- $25
Kids- $10
Outlaw Jim and The Whiskey Benders are a hard-hittin' Outlaw Country band with roots in the sounds of Waylon Jennings and Merle Haggard, as well as influences from New Orleans Funk and Southern Rock. They have traveled extensively in the Midwest and South, playin' festivals, concerts, private events, as well as the beloved honky-tonks along the way.
EVENT TIME LINE
8:00AM - 9:30AM = LOAD IN
9:30AM = COOKS MEETING/ STEAK SELECTION #1
10:30AM = STEAK SELECTION #2
11:00AM = JUDGE'S MEETING FOR ALL EVENTS
12:00PM - 12:15PM = KID'S HOTDOG TURN IN
1:00PM - 1:30 = STEAK #1 TURN IN
2:15 - 2:30 = CHICKEN WINGS TURN IN
3:30 - 4:00PM = STEAK #2 TURN IN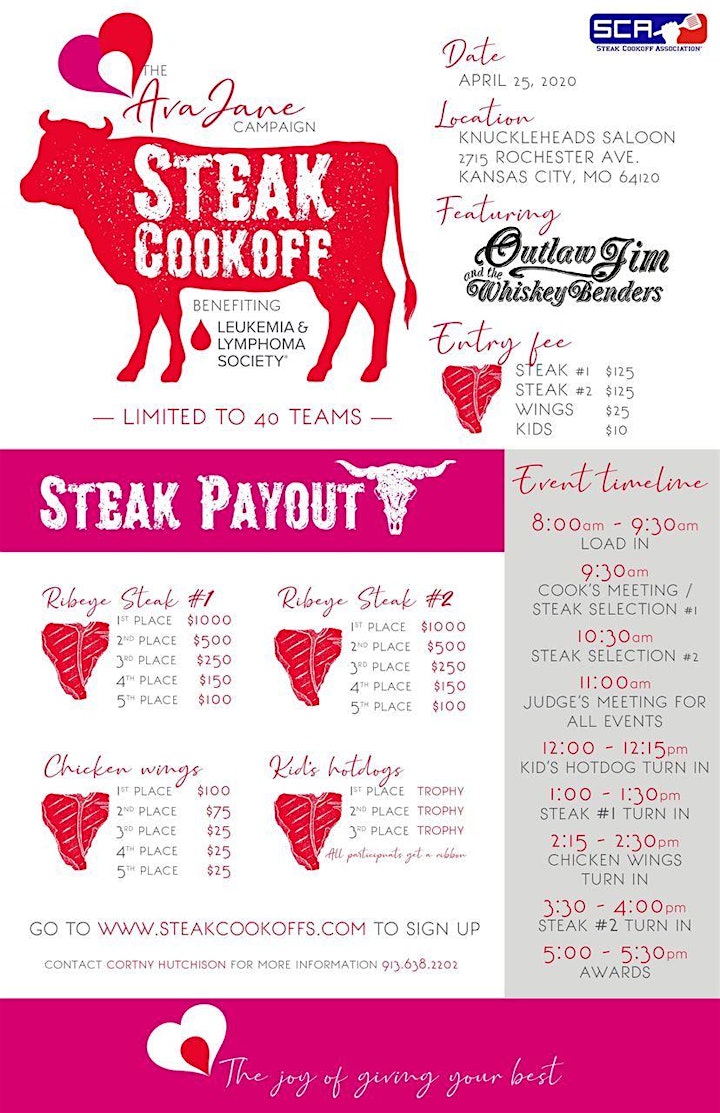 Venue Information:
Knuckleheads
2715 Rochester Avenue
Kansas City, MO, 64120