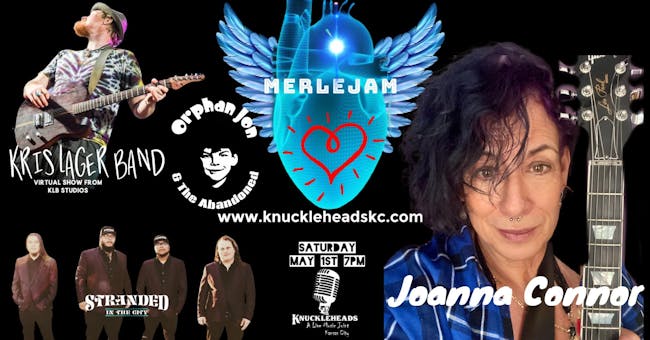 Joanna Connor Band
Kris Lager Band, Stranded in the City
15th Annual MerleJam - 2021!
Doors at 6pm
7:00 pm - Stranded in the City.
8:00 pm - Kris Lager Band livestream performance from KLB Studios
8:45 pm - Orphan Jon & the Abandoned with special guest Alistair Greene
10:00 pm - Joanna Connor Band
Joanna Connor is the headliner, Stranded in the City is the opener and we will have a special virtual show from Kris Lager Band.
The 15th annual concert is a a celebration of the success of organ donation and helps to highlight the need for registered organ donors. Recipients, family member, donor family members and transplant professionals all join in the fun. Net proceeds from the event assist heart transplant recipients in the KC Metro area.
Life is a gift...pass it on! Donate Life!
Joanna Connor
No doubt you've seen it by now: That viral video of a woman onstage in a bright purple dress, playing one absolute scorcher of a slide guitar solo. That's Joanna Connor in her home turf of Chicago, with the firepower she delivers to local crowds on a nightly basis - but there's more to Joanna Connor than that. The disc's ten tracks include tastes of gospel, rock, soul and funk; all with the gutsy singing and heartfelt playing that have always been her trademarks.
Orphan Jon & the Abandoned with special guest Alistair Greene
Orphan Jon simply put, is a very unique artist. Unique in that he expresses himself in such a way; that's so different; both vocally and physically, that many have said after seeing him perform live, they've never seen nor heard anyone like him before. And along with his touring band The Abandoned there's an energy that not only captures the traditional fans of the blues; which they so love and cherish, but also have been gaining more and more of a younger audience due to the Roots style of music they showcase everywhere they've been honored to play.
Alastair Greene's musical journey has been anything but traditional. His combination of Blues, Southern Rock, and Jam Band sensibilities have been thrilling audiences for nearly two decades. With recent appearances at the Chicago Blues Festival and the Big Blues Bender in Las Vegas, as well as guest appearances with such luminaries as Eric Burdon, Walter Trout, Coco Montoya, Savoy Brown, John Nemeth, and Debbie Davies, it's crystal clear,.....his star is on the rise.
Kris Lager Band
For most of Kris Lager's life he has been a traveling musician, a troubadour, who has spent two decades on the road honing his craft and message.

Not only is he one of the funkiest and fiercest blues guitar players you'll ever witness with a uniquely expressive and heartfelt voice. He also crafts uplifting, interactive, and spiritual tunes with a 'Celebrate Life Mantra' that is woven throughout his entire performance.

Kris is a Lincoln, Nebraska native and a family man who has built a reputation for refusing to play by industry rules or pander for awards and accolades. He is truly a one of a kind performer who hits the stage with an intense purpose of uplifting and engaging audiences while delivering his flavorful gumbo of rhythms and melodies.

www.merlejam.com for more info.

https://www.facebook.com/krislagerband/

Venue Information:
Knuckleheads
2715 Rochester Avenue

Kansas City, MO, 64120