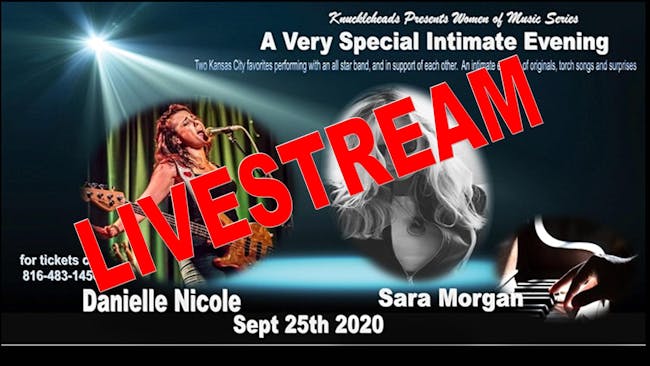 LIVESTREAM TICKET ONLY Danielle Nicole & Sara Morgan
$20.00
Sales Ended
On Livestream/Cleeng
Danielle Nicole & Sara Morgan together at Knuckleheads! An intimate evening of originals, torch songs and surprises! LIVESTREAM ONLY
This is a livestream ticket only for those who want to watch from home. The live show will sell out and this ticket will not get you access in to the live show. This is for a online only livestream.
This has to be one of the finest shows we have ever put together. These two ladies are two of our favorites and they have agreed to preform together and do mostly ballads and trade lead and harmonies, They will be joined by Will Puckett on Keys, Brandon Miller and Carl Butler on guitars and Terry Hancock on percussion. and James Albright on Bass .
I can't wait to see this show! Frank
Danielle Nicole
"I grew up playing the blues, and the blues is still a big part of what I do. But now I'm reaching out more and trying different things. It still sounds like me, but I'm stretching out a lot more than I have previously."
Nicole's distinctive, inventive bass work—which resulted in her becoming the first woman to win the Blues Foundation's 2014 Blues Music Award for Best Instrumentalist, Bass—is the product of years of intensive roadwork. Although she had no experience with the instrument when she became Trampled Under Foot's bassist, now she can't imagine life without it. Danielle is a 2019 Grammy Award Nominee , Her strong vocals can warm your heart and bring tears to your eyes
Sara Morgan
My name is Sara. I'm just your Average Jane. I'm originally from McGehee, Arkansas. I love a river delta sunset, a porch swing, and a fried bologna sandwich. I'm southern, not western, and cowboy boots look weird on me so I don't really wear them. Overalls have been and always will be a wardrobe staple.

If you've landed on this page you know, I write songs. I started writing songs almost ten years ago and this year ONE of those 800 some odd songs (Church in a Bar) was FINALLY serviced to country radio. I am going to push this song until it's a hit because my team and I, we believe in it. And because Loretta Lynn once told me that "If you have a hit song you have to get out there and push it because NO ONE is going to do it for you." She's right.

What I don't believe in? Quitting. I could have quit two years in after my first record when I was told "there are no hits on this." I could have (and maybe should have) sold all of my guitars six years in after I went broke and every door was slammed in my face. I could have totally given up after my FOURTH record FINALLY hit Billboard and nothing really happened with it.

But I didn't. And I'm not going to. And if you're reading this and you're working towards a goal, keep going.

I love writing songs, but at the end of the day, music isn't who I am it's simply what I do. Who I am, is what dictates HOW I do what I do.

"I ain't buyin' my way in and I ain't sellin' my soul." - Average Jane

See you out there,

Sara

Venue Information:
Knuckleheads
2715 Rochester Avenue
Kansas City, MO, 64120