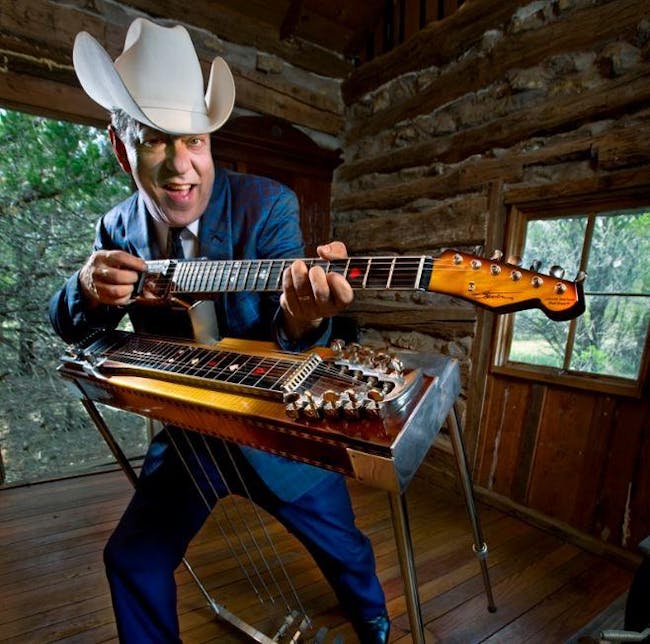 10% off in gift shop the night of show with this ticket*
Junior Brown
PopSkull Rebels
10% off in gift shop the night of show*
Seeing Junior live is a definite must, so GUIT WITH IT 'cause he's AN AMERICAN ORIGINAL!
Junior Brown:
With his unique voice, more unique song writing, and even more unique double necked "Guit-Steel" guitar, there has absolutely never been ANYONE like Junior Brown. He's an American Original. Born in 1952 in Cottonwood, Arizona, Junior Brown showed an affinity for music at an early age when the family moved to a rural area of Indiana near Kirksville. In the following years, Junior began to experience Country music and remembers it as "growing up out of the ground like the crops – it was everywhere; coming out of cars, houses, gas stations and stores like the soundtrack of a story, but Country music programs on TV hadn't really come along much yet; not until the late fifties." Discovering a guitar in his grandparent's attic, he spent the next several years woodshedding with records and the radio. Junior was also able to tap into music he couldn't hear at home which older, college aged kids were listening to. This was possible due to his father's employment at small campuses throughout the next decade as the family moved twice again. As a young boy he was able to experience the thrill of performing before live audiences, at parties, school functions even singing and playing guitar for five thousand Boy Scouts at an Andrews Air Force Base jamboree; then while still a teenager, getting the chance to sit in with Rock and Roll pioneer, Bo Diddley. Armed with this broad spectrum of influences, he began to develop a storehouse of musical chops.
PopSkull Rebels:
"PopSkull" was a slang word in the Civil War for Cheap Whiskey, we are influence in Ol'school Country and Rockabilly, and a little punk thrown in for good measure! J Doyle is Founding member of the Rumblejetts and Gretsch Artist. JD also in the early 90's was a member of the Roots/Country band the Bindlestiffs. B Clipper Sifton is from KC's Cry Baby Ranch, a local favorite! Lafayette Dixon, all I can say is just wait! he's like a bull ready to bust out of a gate at a Rodeo!
*10% off in Knuckleheads Gift Shop with advance ticket
Valid day of show only on in stock items
Excludes gift cards, concert tickets, and artist merch
Venue Information:
Knuckleheads
2715 Rochester Avenue

Kansas City, MO, 64120