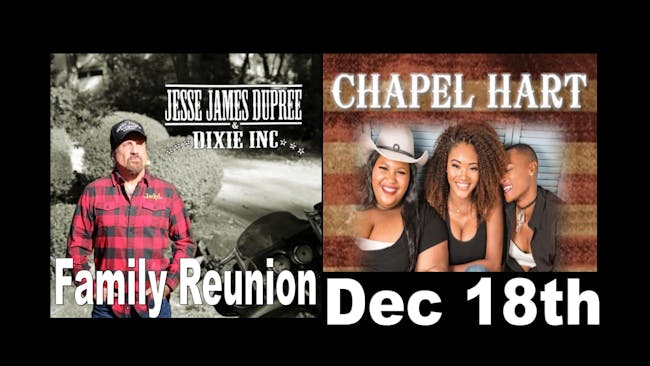 Jesse James Dupree & Dixie Inc. Family Reunion in the Garage
Chapel Hart
Jesse James Dupree & Dixie Inc. Family Reunion With Special guest Chapel Hart Day 2
While Rev it Up and Go Go is the second solo record from Jackyl singer Jesse James Dupree, he didn't go it alone on the 20 tracks of crunchy rock, cool country and old-timey radio show revelry. "This record is so much Dixie Inc. I couldn't have made this record without these guys; their songs, playing, suggestions and collaboration," Dupree says. Enter Dixie Inc., a collection of players who were friends and fans of each other, brought together for a Thanksgiving feast and jam that turned into Rev It Up and Go Go. Dixie Inc. is bassist Roman Glick (Brother Cane, Jackyl); drummer Mike Froedge (DoubleDrive, Speed X); guitarist Charlie Star of Blackberry Smoke fame; and features Richard (guitar) and Fred (drums) Young of the Grammy-winning Kentucky Headhunters.
Thanks to the kindred musical spirits in Dixie Inc., Rev It Up and Go Go possesses continuity in both the 'Saturday Night' side of the album (rock) and 'Sunday Morning' (country). "Mike and Roman were so in the pocket, and when they come together, it's such an impactful presence on tracks like -Tank' and -Drop Dead Ready' and -Bite,' raves Dupree. "The two of those guys alone make me want to run through a brick wall." While the future isn't written in stone, all involved with Dixie Inc-fans included--look forward to more family-style collaborations and, hopefully, live shows and a tour. As Dupree concludes, "When a record is done, you're super excited because it's fresh and new, and it's your baby. Everyone thinks their baby is the most beautiful thing, but when that baby is a little older, you can step back and realize the truth… But every now and then you have a baby that just may be the prettiest baby in the world. And that's Dixie Inc and Rev It Up And Go Go."
Chapel Hart / Sisters Danica and Devynn Hart and cousin Trea Swindle — known collectively as Chapel Hart — should be the next big thing in country music. They sing gorgeous harmonies. Have charming personalities. And come with a true foundation in the genre
A New FUN! ENERGETIC! Soul-Stirring! Band in New Orleans, LA from the small town of Poplarville, MS.
http://www.jessejamesdupree.com/
Tables and Seats are sold together for social distancing purposes (excluding stools).
Indoor concert.
21 and under must have a guardian present.
No refunds.
All seating arrangements will be following social distancing guidelines, and chairs cannot be moved.
Masks must be worn at all times unless seated at your designated spot.
We kindly ask our customers to stay in their seated section, unless going to get concessions or use the restroom and always respect other patrons.
Venue Information:
Knuckleheads
2715 Rochester Avenue
Kansas City, MO, 64120