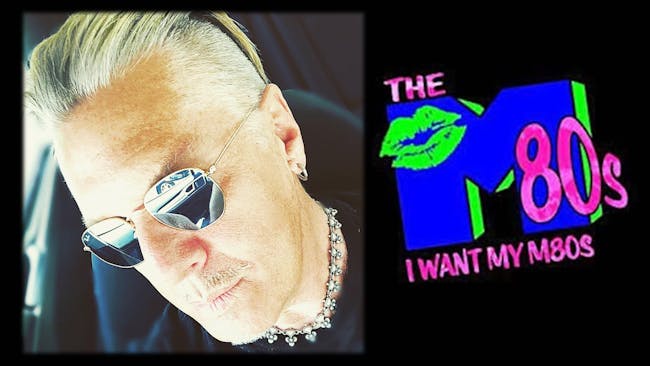 10% off in gift shop the night of show with this ticket*
Gary Myrick with The M80s
10% off in gift shop the night of show*
Gary Myrick , official Texas Tornado and Grammy nominated guitarist singer songwriter. Gary Myrick had his first hit bursting on the music scene in 1980 with " She Talks in Stereo" from the critically acclaimed album, Gary Myrick and the Figures. The band then released "Living In A Movie" (1981), followed by "Language" which featured the single, "Guitar, Talk, Love & Drums" and MTV hit, "Message Is You." Also, Myrick had two songs, "She Talks In Stereo," and "Time To Win," featured in the 1983 film, Valley Girl.
Myrick, a Texan garnered success with his work, performing all guitars on the number one song, "Missing You" and writing 6 songs on the album, "No Breaks" with John Waite. Myrick has contributed his great guitar and lap steel work with Rock 'N Roll Hall of Fame musicians Jackson Browne, Bonnie Raitt, Brian Wilson, The Eagles, Clash bassist Paul Simonon in Havana 3AM, Steve Jones of the Sex Pistols, soul legend Wilson Picket, Stevie Wonder and many more. Performing worldwide on Late Night with David Letterman, and Rick Dees Show. Toured with The Kinks, Todd Rundgren, and backed Nancy Sinatra. MTV nominated for best video of his song "Guitar, Talk, Love and Drums."
Myrick has 8 solo albums and many soundtracks in film and television. Gary Myrick is releasing a new album in March, 2021 to coincide with his Spring tour.
Rolling Stone rated his band with Paul Simonon on IRS records number 4 on their alternative charts. Myrick is touring now and bringing his tsunami performances to the stage with his incredible guitar work , poetry lyrics, and one of a kind songs to audiences everywhere. Do yourself a favor and don't miss this rare artist coming to a town near you. Check GARY MYRICK on Facebook for tour dates and updates on his artwork , history and what he is up to NOW.!!!
The M80s deliver an amped up, nonstop ragin' 80s party with the hottest dance hits from pop, rock and new wave!
Our song list is stacked with all the top eighties music that will get you out of your seat. The M80s crank up the party and keep the dance floor packed!
*10% off in Knuckleheads Gift Shop with advance ticket
Valid day of show only on in stock items
Excludes gift cards, concert tickets, and artist merch
Venue Information:
Knuckleheads
2715 Rochester Avenue

Kansas City, MO, 64120