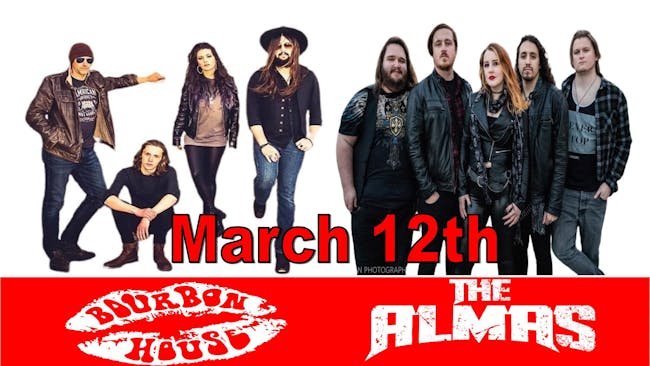 10% off in gift shop the night of show with this ticket*
Bourbon House
The Almas
10% off in gift shop the night of show*
Bourbon House's riff-based groove rock has been described as "modern rock with a hard 70's blues-rock edge."
Forever passionately in love with the classic 60's and 70's hard rock sound of pioneering artists like Led Zeppelin, Janis Joplin, Deep Purple and Black Sabbath, bourbon house is on a mission to write songs that are timeless and infectious with riff-driven, blues-infused stompin' grooves.
Albums:
Bourbon House (ep) 2017
Wild Abandon (lp) 2018
Devil on my Heels (single) 2019
Too High to Care (single) 2020
The sound of the midwestern small town quartet Bourbon House's riff-based groove rock has been described as "modern rock with a hard 70's blues-rock edge." As vocalist Lacey Crowe likes to describe their songs, "Straight-up, timeless rock and roll". The band consists of Crowe, Jason Clark on guitar, Ryan Sargent on drums and their newest member Johnny Pries on bass.
Their 2019 single "Devil on My Heels" won the praise of Classic Rock Magazine: "Expect delicious spadefuls of Heart, Led Zeppelin and Janis Joplin with this gnarly blues rock number from Wisconsin rockers Bourbon House. Spearheaded by smoky-yet-strident siren Lacey Crowe, it's the kind of music that doesn't know whether to flirt with you or kick you in the teeth – and we mean that in a good way." Bourbon House won a feature on the magazine's covermount compilation CD, and also won Track of the Week against a poll of talented, well-established signed bands. With the aid of influencial rock radio DJ's around the world, including a shoutout endorsement from Eddie Trunk, the single quickly climbed the underground rock ranks, reaching #1 on the independent charts in Australia and #2 in the U.K.
The hard-hitting and gritty rock song "Too High to Care" is the newest single from Bourbon House, released April 17, 2020. It has also received the praise of Classic Rock Magazine with a track of the week nomination, has been featured in multiple publications and radio stations, and landed them a slot on the blind anxiety entertainment roster. Recorded and produced at the legendary Rustbelt Studios in Detroit, MI with engineer Steve Lehane, it's the first single off of their upcoming 2021 album release. Bourbon House has a live performance described as energetic and dynamic, with power vocals, explosive guitar riffs and a tight and groovy rhythm section. Along with Blind Anxiety Entertainment, they are currently working on a small Midwestern 2020 winter tour as well as a longer US tour in the spring of 2021.
The Almas
The Almas are an all original Hard Rock band from New Munster, Wisconsin. Their music has a very large and organic sound following the yester-year of Rock N Roll.
The Almas impart the truest essence of Rock n' Roll through guitar driven licks, road dog attitudes, and a high energy, professional live performance! Since the beginning of 2019, they have embarked on two US tours, playing from coast to coast, most notably playing the Whisky A Go Go and breaking into Canada for Maple Rock Fest.
https://www.bourbonhouserocks.com/
*10% off in Knuckleheads Gift Shop with advance ticket
Valid day of show only on in stock items
Excludes gift cards, concert tickets, and artist merch
Venue Information:
Knuckleheads
2715 Rochester Avenue

Kansas City, MO, 64120