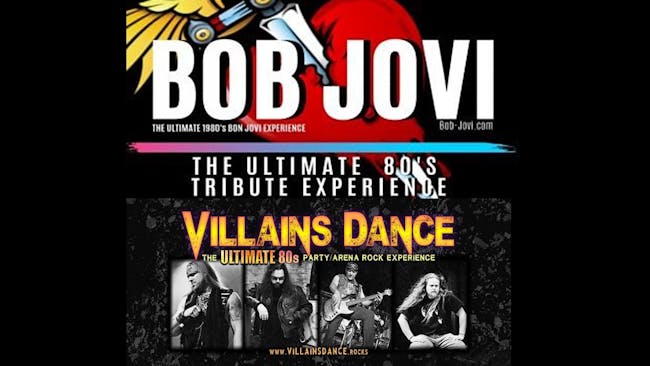 Bob Jovi and Villains Dance
There will also be a silent auction and 50/50 raffle! Thanks for supporting the Dream Factory
Bon Jovi Tribute
"Bob Jovi put the place ON....FIRE! From a few rows back, I wasn't quite sure if that was Bon Jovi or BOB Jovi. And I'm not talking hot 60 year old Bon Jovi, I'm talking like 1988 Slippery When Wet Bon Jovi. Women were going CRAZY for Bob Jovi."
The men in Bob Jovi are no strangers to the Tribute scene. Scott Jensen (Alex Faux Such of Bob Jovi) started the world-renowned KISS tribute Almost KISS fifteen years ago. In 2009, Bob Jovi members Bobby Kerr (Bob Jovi) and Aaron Neal (Aaron Ritchie) also joined Scott in the ranks of Almost KISS. From there, a storied tribute history evolved between these three, bringing along two other veteran, Kansas City musicians. Larry Garland (The Hit Man) & Jeremy Beach (David Bryan Beach of Bob Jovi) rounded out what is the World's Most Authentic 1980's Bon Jovi Tribute. With over 3,000 tribute concerts played between them, Bob Jovi knows what it takes to leave audiences in awe and feeling like they are experiencing a legitimate 1980's Bon Jovi LIVE show.
Villains Dance
Villains Dance, the Ultimate 80s Arena Rock Experience, is a regional/semi-national travelling performance based out of Kansas City that delivers a high-energy celebration of 80s Arena/Party Rock covering great artists of the period such as Bon Jovi, Def Leppard, Van Halen, Poison, Tesla, and so many more. If it was an 80s Arena Rock artist/group, Villains Dance covers them.
The 80s was an era where excess and decadence were GOOD and hair was even better...or at least bigger. Party/Arena Rock personified this! Songs were bolder, stage shows were more elaborate and music videos redefined our perception of music completely.
The 80s wasn't just about bands standing on stage playing good music. It was a PERFORMANCE. It is noted as the GREATEST DECADE of Rock. The 80s was a PARTY!
KC Dream Factory
As children, we all dream big. Some of us imagine visiting storybook, far away places. Others long for a furry, four-legged friend. Still, others dream of meeting our heroes. And if we are lucky, many of us see those dreams become reality somewhere along the road of life.

But for children struggling with critical or chronic illnesses like diabetes, cystic fibrosis or cancer, the road may be all too short and there is little time to realize such big dreams.

The dream factory exists for them.

Since 1985, the Dream Factory of Greater Kansas City has remained dedicated to making dreams come true for critically or chronically ill children. As a 100 percent volunteer organization, granting dreams is our mission, smiling children are our vision. And in more than three decades, our devoted volunteers and generous business supporters have created thousands of smiles. We are proud to say that more than 85 percent of the funds raised or donated to the Greater Kansas City chapter of the Dream Factory remain right here, granting the dreams of deserving children in our community.

From ocean cruises to new computers to Disney character meetings and shopping sprees—the Dream Factory continues to proudly grant dreams of all shapes and sizes to the children in and around the Kansas City area.

For children and their families who live each day not knowing what the future may bring, a dream granted brings a little ray of light, a little bit of hope and a lifetime of memories.

https://www.facebook.com/villainsdance

Venue Information:
Knuckleheads
2715 Rochester Avenue
Kansas City, MO, 64120