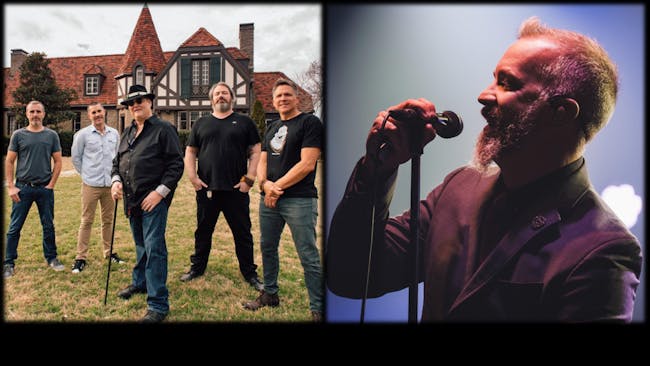 10% off in gift shop the night of show with this ticket*
Blues Traveler
JJ Grey & Mofro
10% off in gift shop the night of show*
JJ Grey & Mofro
From the days of playing greasy local juke joints to headlining major festivals, JJ Grey remains an unfettered, blissful performer, singing with a blue-collared spirit over the bone-deep grooves of his compositions. His presence before an audience is something startling and immediate, at times a funk rave-up, other times a sort of mass-absolution for the mortal weaknesses that make him and his audience human. When you see JJ Grey and his band Mofro live—and you truly, absolutely must—the man is fearless.
Onstage, Grey delivers his songs with compassion and a relentless honesty, but perhaps not until Ol' Glory has a studio record captured the fierceness and intimacy that defines a Grey live performance. "I wanted that crucial lived-in feel," Grey says of Ol' Glory, and here he hits his mark. On the new album, Grey and his current Mofro lineup offer grace and groove in equal measure, with an easygoing quality to the production that makes those beautiful muscular drum-breaks sound as though the band has set up in your living room.
Blues Traveler
30 years ago, the four original members of Blues Traveler, who had known each other since their early teens -- John Popper, Chandler Kinchla, the late Bobby Sheehan and Brendan Hill -- gathered in the basement of their drummer's parents' Princeton, NJ, home and the seeds were planted for a band who has released a total of 13 studio albums, four of which have gone gold, three platinum and one six-times platinum. Over the course of its illustrious career, Blues Traveler has sold more than 10 million combined units worldwide, played over 2,000 live shows in front of more than 30 million people, and, in "Run-Around," had the longest-charting radio single in Billboard history, which earned them a Grammy® for Best Rock Performance by a Duo or Group with Vocals. Their movie credits include Blues Brothers 2000, Kingpin, Wildflowers and others. A television favorite, they have been featured on Saturday Night Live, Austin City Limits, VH1's Behind the Music and they hold the record for the most appearances of any artist on The Late Show with David Letterman.
"We started this whole adventure as a team," says Brendan Hill. "We've taken every step of this as a group together, from the basement to moving to New York, getting signed, hiring a manager, to achieving all our goals."
*10% off in Knuckleheads Gift Shop with advance ticket
Valid day of show only on in stock items
Excludes gift cards, concert tickets, and artist merch
Venue Information:
Knuckleheads
2715 Rochester Avenue

Kansas City, MO, 64120